How M6.4 California affected companies in the energy sector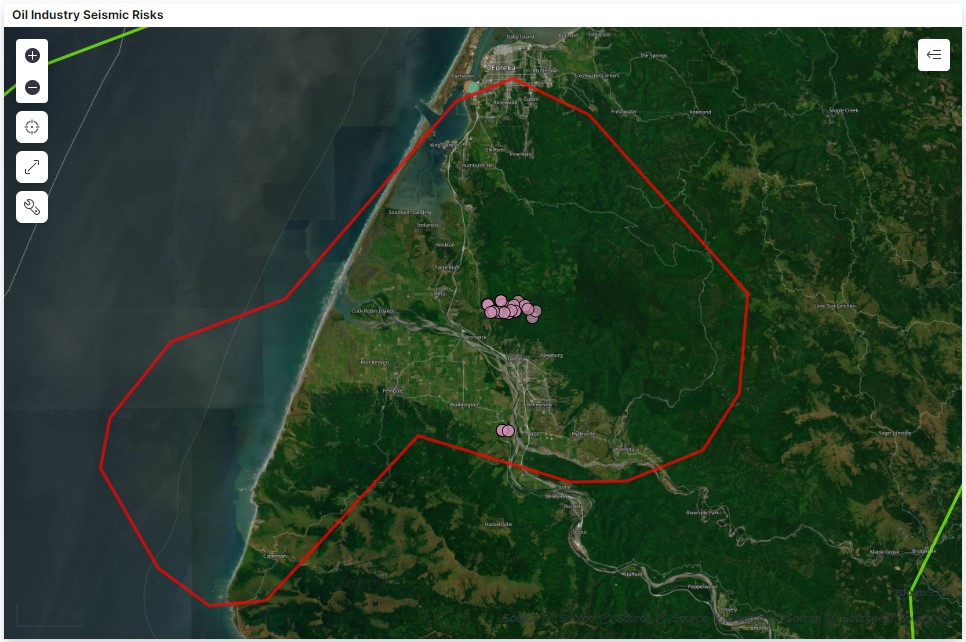 M6.4 Dec 20, 2022, earthquake hit California in its anniversary, a few days after Earling Severe Ground Condition models marked the time-window as the time expected having unusual seismic events - and it happens. Properties and facilities near the epicenter experienced PGV 20cm/s based on the USGS report, which is really powerful. There are many companies in the energy sector affected by the predicted event, some of them are listed as below:
CHEVRON PRODUCTS COMPANY

CHEVRON PRODUCTS COMPANYs' petroleum bulk stations and terminals was in the epicenter of the earthquake. At the time no loss is reported




The chevron facility was very near to the epicenter.

HUMBOLDT BAY HARBOR

HUMBOLDT BAY HARBOR and CHEVRON PRODUCTS COMPANY are connected together and both of them were in the epicenter.




Humboldt Bay Harbor was only a few kilometers separated from epicenter of the M6.4 Dec 20, 2022 earthquake.

VINTAGE PRODUCTION CALIFORNIA LLC

If Chevron and Humboldt Bay Harbor were a few kilometers separated from the M6.4 earthquake, the epicenter was under of the Vintage wells.




Vintage Production California had 34 gas wells when the M6.4 earthquake happened under the facilities, and they affected by PGV 20cm/s.

INNEX CALIFORNIA, INC

INNEX CALIFORNIA, INC. had 4 wells in a region that affected with PGV 20cm/s. Epicenter was under the operation field so they must have been affected with the earthquake.




Innex California wells in GRIZZLY BLUFF GAS field that hit by PGV 20cm/s earthquake waves on Dec 20, 2022.
Do you need the web dashboard?
Don't you need to know how seismic risk level changes near you, your property and facilities to manage or transfer financial risks? We would be very happy to share our operational ideas to help. Contact us